How do I tell my parents I am pregnant?
It is not easy about telling people you are in an unplanned pregnancy, especially your parents. Fear of what they might think or say can cloud your judgment and thought process moving forward. Most likely, the news of your pregnancy will come as a shock but at the end of the day, remember they love you and want to be there for you.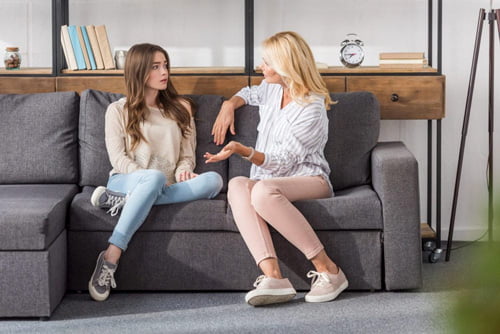 Every family handles these types of situations. If your parents have a hard time coping with the news, learn on another family member or friends for support. There is a chance this news will bring you all together and closer than ever before.
Unless your parents are cable of physical abuse, tell them as soon as possible. Pregnancy symptons and the growth of your baby will reveal your pregnancy. It is better for them to find out from YOU than someone else.
No one knows your parents better than you do. You know how to approach them, what to say, the right time, and how to break the news. It is hard to think in a nervous situation so consider the best way to let your parents know about your pregnancy.
If the thought of personally telling your parents the news of your pregnancy is too much, consider a letter or a card. Once the letter/card is given to them, tell them you want to sit down and talk it through with you. Another way would be through a phone call.
What should I say?
Communicate over and over how much you love your parents and how sorry you are for the pain you caused through this pregnancy. This is no longer just about you but your parents and the little one growing inside of you.
What if they want me to have an abortion?
Some of the things your parents might be thinking; "We had such high hopes for your education", "You're too young! You're not responsible enough to handle a child", "I can tell I'm going to end up raising this kid!", "What will our friends and family think?", etc.. Come up with a responsible plan of action for you and your unborn child before you talk to your parents. Please remember, this is your child and you can be a mom/dad!
Please consider calling/texting Choices at 423.892.0803. There might be possibilities and resources available to you that you might not be aware of.